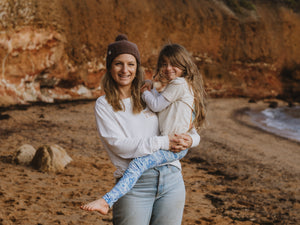 Amber Days is an Aboriginal owned ethical children's wear label that is inspired by the Australian bush, desert and sea. Amber Days is made for mindful, adventurous, free spirited little ones, who are the next generation of change makers.
Our Founder
Corina Muir
I am Corina, an Aboriginal mother, nature protector, artist, designer and campaigner.
Amber Days was born out of my desire to follow my dreams and have financial freedom for me and my daughter without jeopardising the importance of being a present mum, which is so valuable to me. I have always been passionate about the environment and people so when falling pregnant with my daughter, finding clothing that didn't use harmful chemicals in their processes was really important to me.
After doing some research into the fashion industry and the toxins and practices used, I was pretty terrified. This really reinforced the importance of transparency in the fashion industry and buying from designers that use organic fabrics that have been dyed with non toxic dyes and produced ethically. The fast fashion industry needs to change and we need to support the ones making this change.
For this reason, we strive to not only create Amber Days with as minimal impact to the environment but also be a positive change to the fashion industry by supporting local and ethical manufacturers and fabric suppliers. We aim to use GOTS certified organic fabrics or otherwise strive to use the highest quality natural fabrics on the market.
With each collection, we collaborate with different Aboriginal artists to produce original, dreamy, fabrics. When outsourcing skills and services, we prioritise Aboriginal and Torres Strait Islander, refugee and migrant women, because as we know, women are the leading forces behind healthy communities and society.
All garments are hand made in India under fairtrade conditions, so you know that the garment you are buying is made to last and wear to its full potential. And what is more special than being able to pass down your favourite garment to your next child or generation to come especially when that garment holds onto so many beautiful memories.
At Amber Days we endeavour to continually improve our processes around sustainability and our environmental impact and continue to support women and slow fashion.